Scream inside your heart
On viral delirium and the dissolution of the self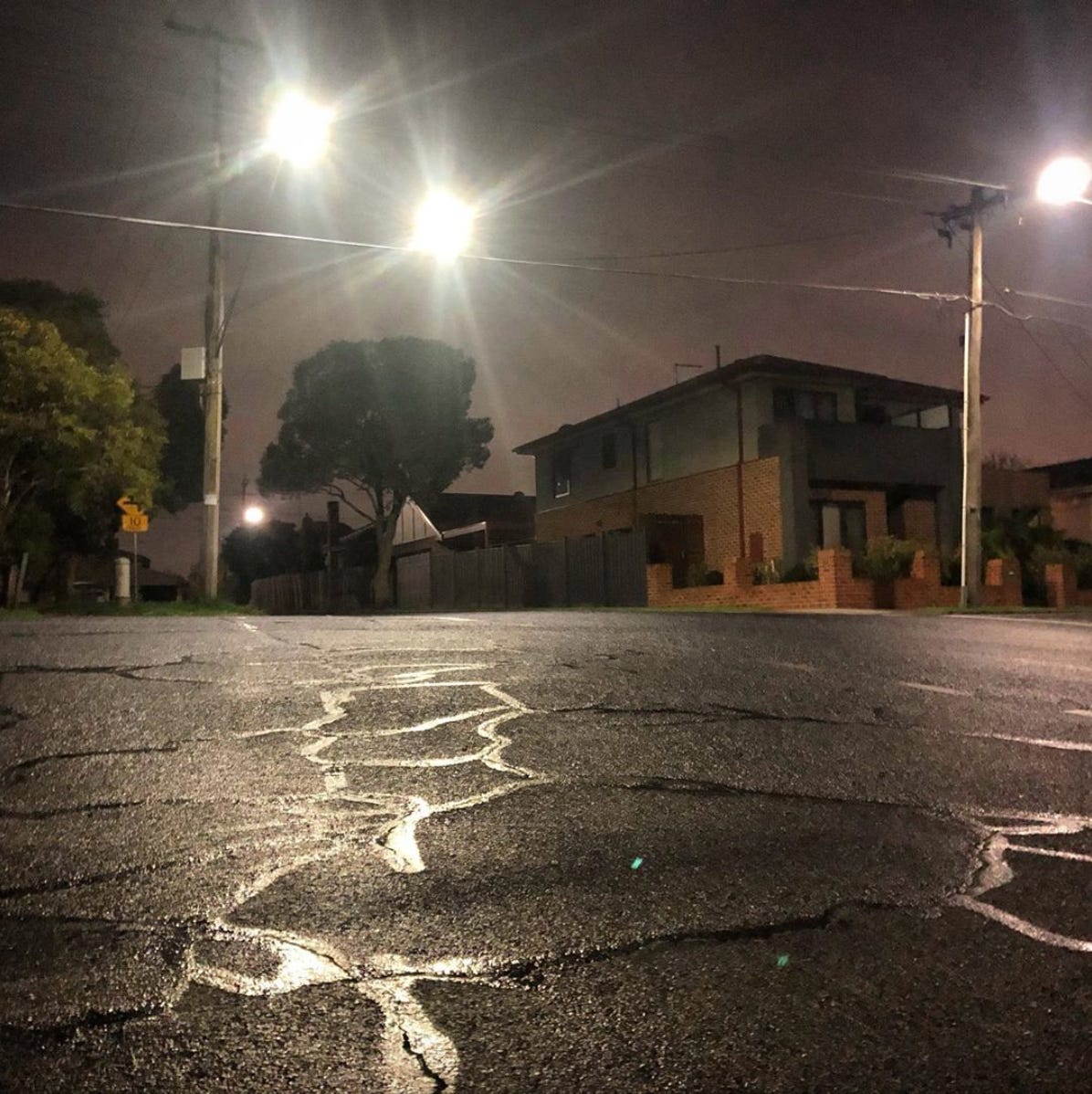 Oil is sentient (for Reza Negarestani). Thornbury, Melbourne.
Null time
I was aware I hadn't published an episode of this newsletter for a while, but I am shocked to discover it has been seven weeks. I guessed three or four.
The last one took it out of me. It was exhausting to write and miserable to reread.
I wanted to forget about this newsletter. It had come to seem like a depression diary. Writing is cheaper than therapy, after all.
In previous episodes, I have been writing about moments in (no) time. Although these events are personal, I can't help but see myself as a character in a story that is unfolding in real time. I watch myself perform actions that frequently seem mysterious and remote. The way I record these actions becomes freighted with doom because sometimes I don't really understand or even trust my own motivations.
This can be dangerous. It inures me to consequence. It can also be life-saving. I 'write' myself out of danger.
If there is a theme in my recent work, it's that of the imagination outstripping reality and the crushing comedown when the dream particles fade, and you realise that you haven't moved at all.
Split personalities are the 'protagonists' of the science fiction novel I am currently working on. The novel is about full-bleed augmented reality and the experience of being haunted by past iterations of yourself.
I finished the second draft last week. That's one reason why there has been a delay between episodes. I wanted to finish the story. It's still rough, and there is more work to be done, buffing up the prose and oiling the gears. 
But the story is there. I know how it starts, what happens in the middle and how it ends.
This newsletter, I'm not so sure.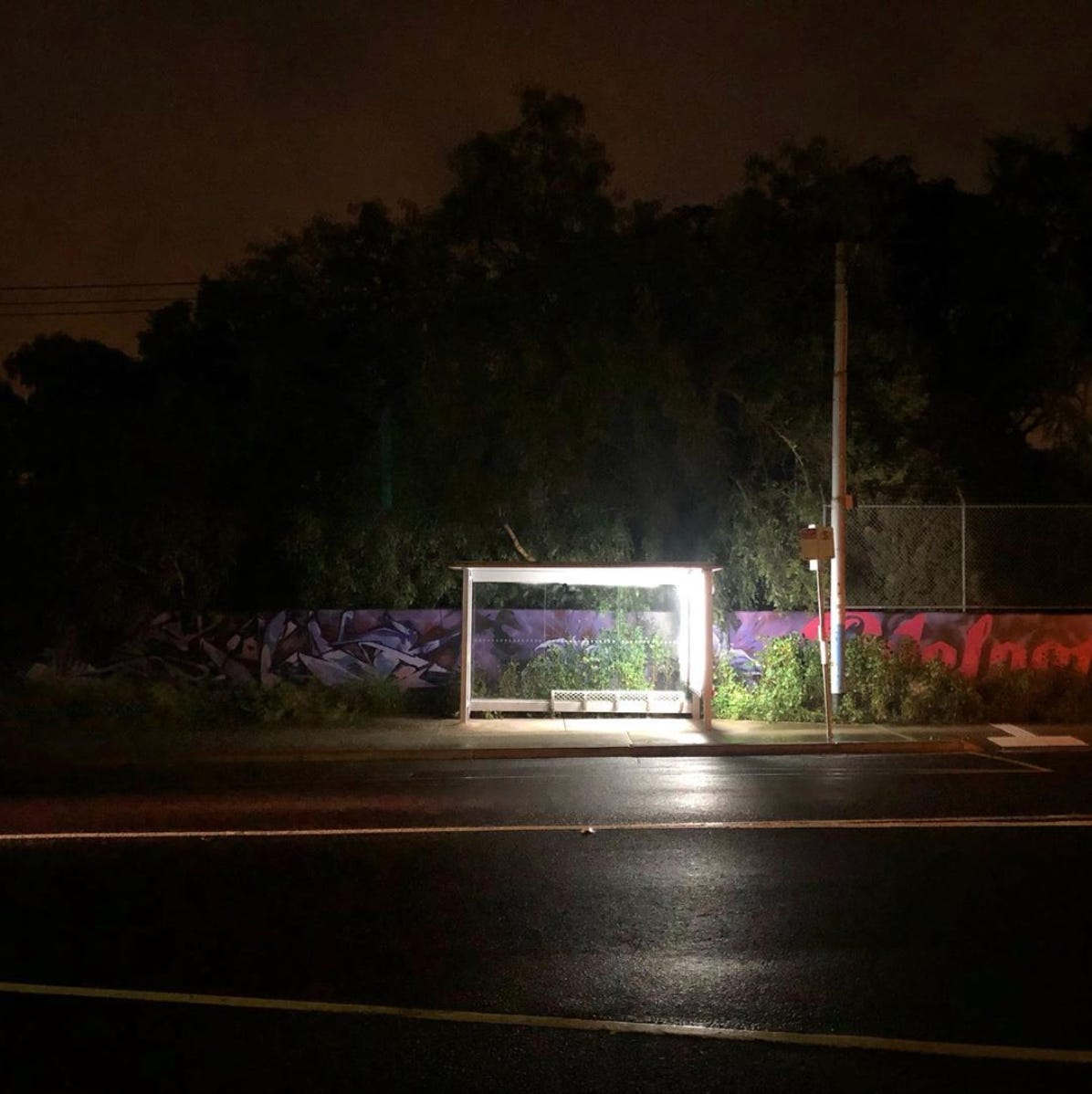 Pareidolia: Slight Return. Thornbury, Melbourne.
The angst of the rear-view mirror
I'm terrible at social media. Too superficial to be a thought leader, too self-flagellating to be opinionated, too dull to have an influence, too unfunny to go viral. 
Instead, I tweet research that feeds into my writing and photos from my walks. I pimp out my book and post the occasional RIP.
Despite my boring online persona, I have made the acquaintance of many interesting people. Some are writers. They keep what you might think of as Twitter diaries. They are looking back on their life and filtering what they see through their writing, which itself has been shaped by the life they've led.
Inside this hall of mirrors, their observations are inspiring and provocative. They can be painfully sad, sometimes bizarre and surreal. 
I am drawn to these people because I am also looking back. I am wondering if all the energy I have expended trying to make a creative life has been worth it. 
This year, I have been finalising my online writing archive. It lays bare all the missteps in my 'career', all the embarrassing stylistic choices, all the wildly divergent trajectories. 
I wrote a new bio for myself that has as many plot twists as a bad thriller. How did I get from there to… where? Because the bio was written for my author website, it only lists the creative outlets, not the office jobs in between (you can see all that on LinkedIn, if you dare).
When I add those in, chaos is complete.
I have worked as a travel writer, a magazine editor, an academic, a policy advisor, a marketing manager. Any of those could've developed into an ongoing career, so what happened? It all seems random, but when I break down the career restarts, the leaps into the unknown, it's possible to discern a jumping-off point from one cliff to another. 
For example, when I was a travel writer, I co-wrote a cult book on micronations. That rekindled my interest in J.G. Ballard, who embraces micronational themes. From there, I returned to my long-abandoned PhD. My thesis was on Ballard. It incorporated the new interest in micronations, and that led to an analysis of Ballard's failed architects, who use the built environment to secede from the world.
I then began to write about broader architectural concerns. Architects and architecture critics began to follow me. Partly because of this visibility, I was offered a job editing the magazine Architectural Review Asia Pacific.
And so on.
In every sidestep, there are the seeds of the next move.
I must zoom in to see the walkways, though, because the widescreen view can overload the senses. I must remember the deep assignments that link all the nodes—from yesterday, today and to come—in ways that are only now becoming clear.
There must be another reason why I waited seven weeks to write this newsletter.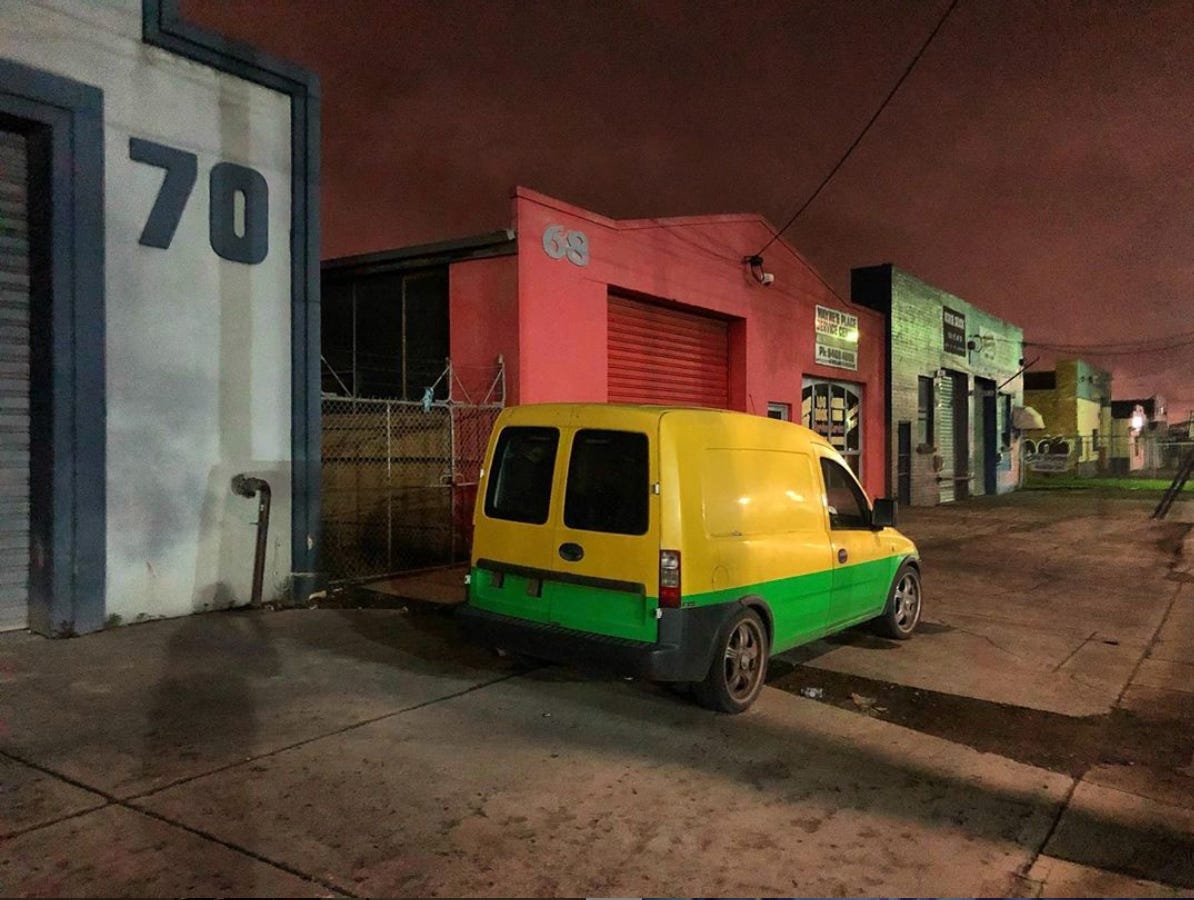 Suburbedelica. Newlands Rd, Coburg, Melbourne.
Slashed to ribbons
Recently, Reuters published a piece that sought to interrogate 'why time feels so weird in 2020'.
A key reason, they say, is that time is subjective. When people experience repetitive events, such as being in the same space day after day during lockdown, they store a memory of the initial event and then pay less attention to it as it repeats over and over. Time appears to run fast. 
During the last seven weeks, as I worked on my novel, in between all the familial duties that I keep secret from this forum, plus the last-ditch attempts to resuscitate my arrhythmic content marketing consultancy, I became lost within a crepuscular blizzard of time spirals, time loops, circular time, null time, no-time. 
Melbourne had just emerged from lockdown, but the quarantine routine remained as my household took no risks. This week, the city has returned to lockdown, as if it had never ended.
On Twitter, Eric Linus Kaplan asked his followers: 'Do you believe that everyone travels through time but in a very small "area"—like you are always going backwards in time a split second and forwards in time a split second—so your consciousness is a temporal cloud around the present?'
I piped up. I said that the concept was amazing. I wondered if there were micro-erasures of consciousness happening as well, so that seconds-in-the-past become seconds-in-the-future.
For those seeking practical answers to life's mysteries, it is said that déjà vu functions in that way. But I wonder if that is more prevalent now. Perhaps COVID déjà vu is common in 2020.
When I sent my naive reply ('What an amazing concept'), I acted as though the idea was alien to me. 
In fact, temporal confusion has informed much of what I have written for the past decade. Applied Ballardianism, with its subtitle, 'Memoir from a Parallel Universe', is the most obvious example. 
After the interaction with Eric, I returned to my work in progress. I came across a passage that I'd written two weeks before. I had no memory of composing it.
In that passage, the narrator says: 'My attention span has been slashed to ribbons. Another side effect of castle hunting. Brain rot from fast forwarding and rewinding too many zones. Some days, I can't remember seconds in the past. Other days, I think the present is seconds in the future and I'm condemned to relive each banal micromoment. At least I saw it coming.'
But I didn't see it coming. 
Because I'd completely forgotten I'd written those words.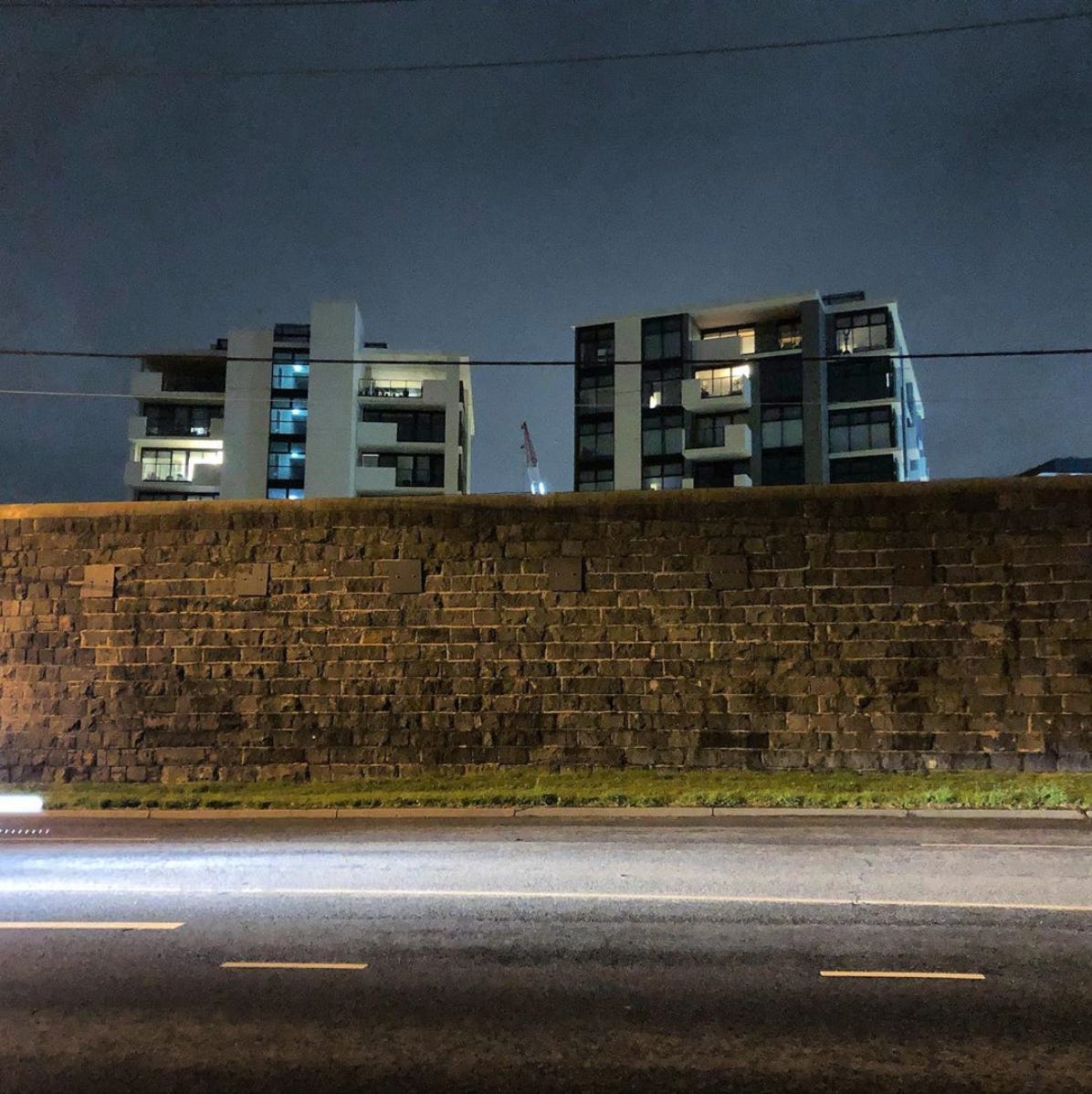 Lockdown begins. Coburg, Melbourne (former site of Pentridge Prison).
A tick a day
On Twitter, some established/blue-tick writers have this thing they do. They only talk to other blue tick/established writers. If you don't know the established/blue-tick writer, or you're not a blue tick/established writer, they won't reply to you. You might get the occasional like for something you've said to them but not an actual response. 
They are busy people, I get it. Everyone's up in their grill for whatever they say and do. The blue tick is a filter, I think. I think it's believed that a tick a day keeps the nutters at bay.
But recently, when the science fiction and fantasy community imploded online with widespread stories of abuse, stalking, gaslighting and coercion, it wasn't hard to see how such tightly wound 'who-you-know' networks could be eroded from within. 
As with so many other institutions within this singular historical juncture, there is now an opportunity to rebuild far beyond the shattered ramparts.
More fallout. After the slaying of George Floyd, writers began to reveal the size of their advances. The aim was to highlight how black writers are grossly underpaid compared to white counterparts. A spreadsheet was compiled and writers were asked to submit their figures. 
To date, 2,783 advances have been recorded. The total amount paid was $137,052,454. That's an average of $49,246 per advance. The largest advance was $3,000,000 (recorded twice, both for non-fiction books). The smallest was $0 (recorded for 83 advances). I have my own collection of zeroes to add to the spreadsheet. 
Just over 50% of that total amount was paid out across almost 200 advances at an average of $361,000 per advance. The other 50% was for 2,500 advances at an average of $27,600 per advance.
Elsewhere, Jessica Spotswood revealed that in 2012 she was paid $900,000 for her Young Adult trilogy. It failed to sell. Now she receives $7,500 advances for her 'quiet contemporary books'.
Another YA author, Laura Sebastian, revealed that she received $185,000 for each novel in her first trilogy, $200,000 for each book in her forthcoming trilogy, and $125,000 for a yet-to-be-published non-trilogy novel.
(Hmmm… I wonder if there's a market for a YA primer on Ballard… or a YA theory-fiction romp among the post-apocalyptic ruins.)
Then there was Chip Cheek, who told us how he received $800,000 for his debut novel. That piece of news really set the cat among the pigeons.
(All the above figures are in American dollars, because this type of publishing megafauna appears to be largely an American phenomenon. Recently, Salik Shah at Tor revisited a question asked on that site a decade earlier: why isn't the great science fiction writer Greg Egan a superstar? Various theories were advanced, but I might suggest: because he's Australian. And he doesn't attend SF cons.)
Let's take the zeroes on that spreadsheet. The question arises. How to survive in such a landscape, where seismic flows pick up and sweep away genres and authors with violent unpredictability, where blue-tick networks erect the walls and weld the gates shut?
If you're Jessica or Chip, that's OK. You rode the flow, made your pile and now you can return to your quiet contemporary books, probably your true passion.
Say you don't have a commercial bone in your body. If you're black, that's systemic. To be non-white is to be uncommercial, considering mainstream publishing houses appear to base ideas about what sells on stories that appeal to white audiences.
But say you are the type of person whose first thought upon hearing that YA authors make pot loads of cash is to make an unfunny joke about 'YA theory-fiction' rather than think 'How can I sell out and cash in?'.
If you are that type, then you must learn to live with your choices. You must learn to 'scream inside your heart'.
You must accept that you will never make it, that you will largely be a footnote (a badly formatted footnote at that, full of citation errors). You must force yourself to admit that all those years toiling away on 'the work' only ever brought you grey hair, anxiety, a bent spine and a bitter attitude. You must remember that all of culture is simply a distraction from death, that once you're seven feet under it's irrelevant how big the advance was.
Either that, or you self-publish.
Watch this space.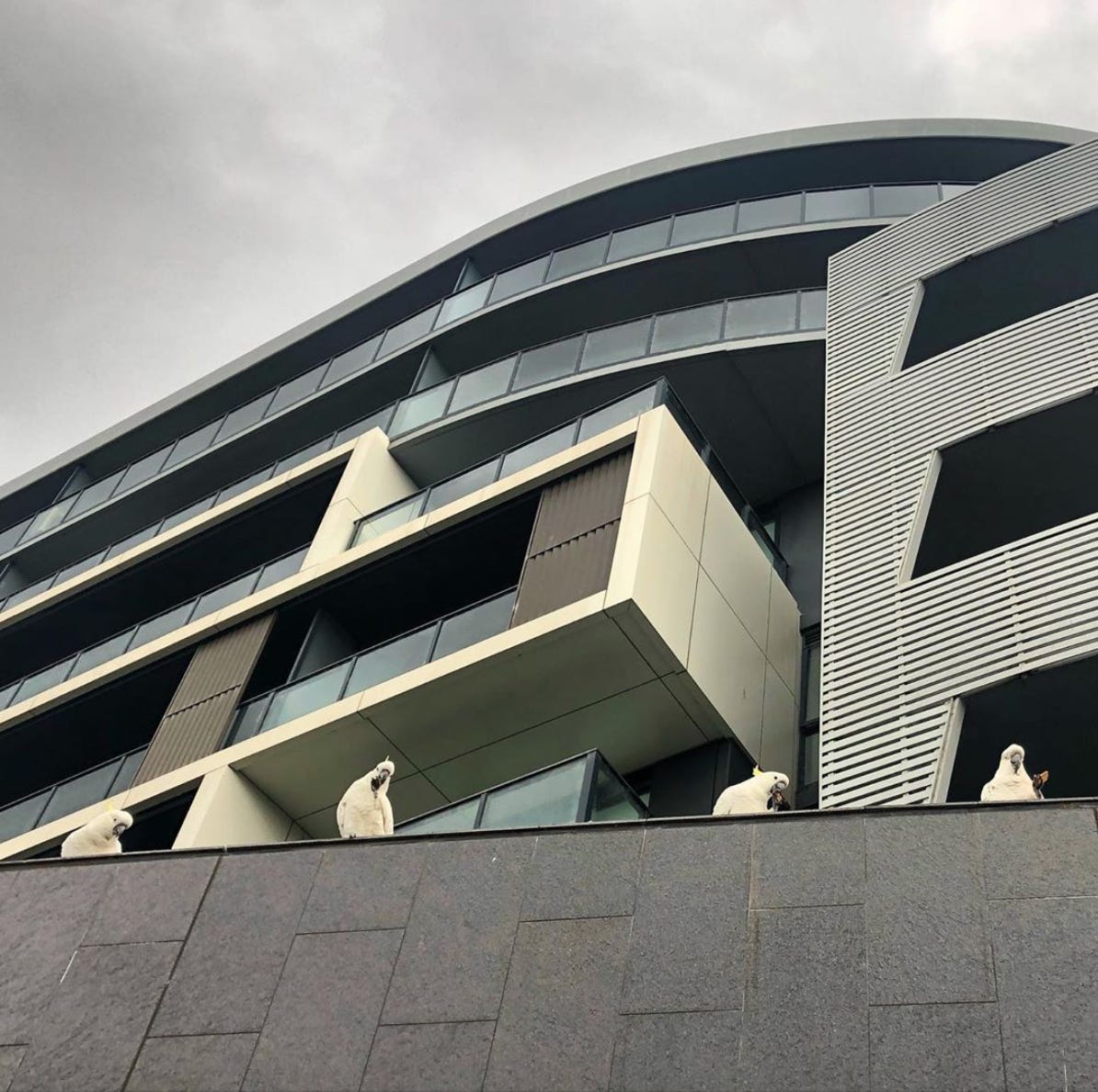 'Later, as they perched on the rampart pecking at the dead tenant, the mutant pigeons were freed from the bizarre events that had overrun the apartment block.' (with apologies to JGB). Bundoora, Melbourne.
The Light
In the last episode, I suggested that I may have cured myself of my nocturnal perambulatory habits. I predicted that light and people would make a star turn in my next round of photos.
I sold myself a lie.
All along, I knew the darkness would descend, as it always does, whenever the sun goes down.
It's time to admit that I love walking at night and the aesthetic that arises from my habit. I love what I have captured in my photos since the last episode. I love it more than anything I have produced in any medium this year.
But that's because I hate writing. At least, the type of writing I do. It's too personal, too confronting.
In an alternate universe, there is another version of me. He loves writing. He ekes out a living as a small-time photographer, but he's self-published a few short stories on the side.
He's held three low-key exhibitions of his photos, sold some of the prints, but he dislikes the practice. He finds photography supremely hard work and emotionally taxing. He thinks it steals his soul, reveals demons within the cracks of time.
Secretly, he wants to write novels.
R.I.P.
Denise Cronenberg (1938-2020): To say she was a 'costume designer' doesn't begin to describe her work. She was as much an auteur as her brother David. Her costumes for Dead Ringers and Crash are characters in their own right.

Ian Holm (1931-2020): Owner of a supernatural gravitas, an aura perfectly attired for characters with immense secrets to hide. Alien, Naked Lunch and eXistenZ are three of my favourite films, and Holm's uncanny performances are among the most striking elements of each.

Ennio Morricone (1928-2020): Master stylist, supreme talent, relentless innovator. For some reason, whenever I have exploded my career and leaped into the unknown, a Morricone tune becomes the soundtrack. When I left travel writing to complete my PhD, 'Come Maddalena' played relentlessly inside my head. Its soaring emotional swells forged a wild call to shed my former skin.
Thank you
If you enjoy this newsletter, please consider buying me a coffee at Ko-fi. It all helps to keep this and other work ticking along. Alternatively, you can buy my books: Applied Ballardianism: Memoir from a Parallel Universe and Extreme Metaphors: Interviews with J.G. Ballard.
I have signed copies of these available to purchase, as well as a few copies of the out-of-print Micronations book. Please contact me directly if you'd like to purchase these.
Besides my novel in progress, future projects will include a 'Best of Ballardian.com' anthology, a collection of my essays and other non-fiction, and audio work featuring readings from my books and others. I also have plans to incorporate a podcast into this newsletter, which I will use to interview writers of all stripes about the strange position publishing finds itself in today.
Thank you for reading and listening.
—Simon